Happy Home Gutter Care is located right here in Brooklyn Park. My wife Andrea and I run Happy Home Gutter together.  
The Fetzek Family
Andrea, Cleo, Gabe, and Cecelia.  In addition to gutter work, I'm also a firefighter.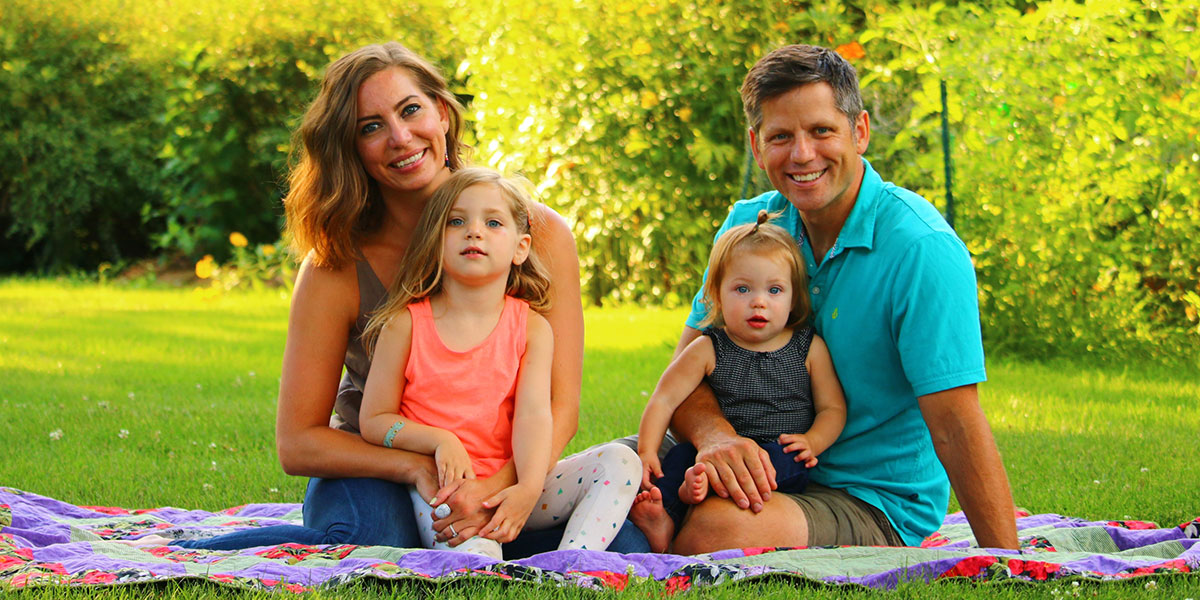 Gabe, the founder of Happy Home Gutter is a dedicated family man who is married to his lovely wife Andrea and they enjoy spending time with their two children. Gabe lives in the Minneapolis area and besides cleaning Gutters he is also a professional firefighter.
He has had some extremely rewarding experiences in his 20+ year firefighting career. Everything from fighting massive forest fires throughout the Sierra and Rocky Mountains, to delivering babies, rescuing individuals in peril, responding to the I-35w bridge collapse and the tornado in north Minneapolis. Today Gabe continues to be a proud first responder.
Because of his firefighting experience with ladders and being able to work up high on buildings and homes, he knew cleaning gutters was a natural fit, and Happy Home Gutter Care was started.
So when it comes to Gutter Cleaning for your home or business, no matter how difficult the job, or how tall your home or building is- trust in a company where the owner really does know what it takes to thoroughly, safely, and effectively clean gutters on homes and buildings.
Happy Home Gutter Care's goal is to stay small and establish a strong working relationship with clients that continue to hire us year after year. I constantly strive to provide a quality end product that you will be happy with.
I chose Happy Home Gutter Care to do gutter cleaning for all my Gutters. I worked with Gabe, and he communicated well upfront and during the work he did. The Gutters had a variety of materials on the inside that were plugging my gutters and they were not draining properly. Plus one of my Gutters was very dirty on the outside. Happy Home Gutter Care cleaned the inside and outside of one of my main gutters and cleaned out the rest of them on my 2 story house and shortly after I had rain come down and I noticed my gutters were definitely draining better. I highly recommend Gabe and his team at Happy Home Gutter Care because they did great work, were easy to work with and they were affordable
Mark - MPLS, MN | 5 Star Google Review
"Gabe did a great job cleaning our gutters and installing gutter guards. He was very responsive and was able to fit us in quickly. The rate was extremely competitive and it was great to support a local business owner. I definitely recommend using Gabe and will be passing along his info to friends and family."
Stephanie G.- MPLS, MN | 5 Star Google Review
Awesome service! I called Gabe to set up the appointment, and he was very friendly and helpful right from the start. The guys that came out to clean the gutters were great. They handled a fairly tough job and had such a great attitude. Would highly recommend!
Mike S. | 5 Star Google Review
"Gabe was prompt in response, thorough in his work and reasonable in his price. I was particularly impressed with his courage in dealing with two wasp nests hidden in our gutter helmet gutters."
Micheal O. | 5 Star Google Review
"These folks are the real deal! Easy to communicate with, timely, sensitive to my families' immunocompromised status, fixed two other non-gutter things while they were there - and cared enough about my gardens and plantings to place their ladders appropriately. I was super pleased all the way around with them!"
Frances D. | 5 Star Google Review
GUTTER CLEANING THAT WILL LEAVE YOUR GUTTERS BETTER THAN BEFORE
Copyright © Happy Home Gutter. All rights reserved.